In the first of a two-part C2E2 Special, Mike and Andy talk to each other across time (zones)!
Andy recalls his days at the Chicago Comics and Entertainment Expo, but as always the conversation wanders into other avenues such as how to get rich from foreign foods, what happens when you make Edwardian comedians out of cobalt, and Mike tries to get Andy laid from across the seas.
The 50ft Nerds: Jesus wont give them any money
Send us an email to fiftyfootnerds@gmail.com, tweet us @FiftyFootNerds and visit http://www.facebook.com/AttackOfThe50ftNerds
Note: This and every episode is earmarked by iTunes as "explicit" and is intended for mature audiences. The rest of Panels on Pages is reasonably safe for all-ages.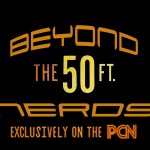 (Right click to save)
Visit the Attack of the 50ft Nerds thread on the PoP!ulation Forums!