In this episode, Mike and special guest commentator Joe (aka MemeEmSteveDave) review the first of Kevin Smith's "True North Trilogy", Tusk.
The guys sit down with pizza to work their way through the movie, in hopes of answering the question "is man truly a Walrus at heart?"
The 50ft Nerds: #WalrusYes
Want to contribute? Send us an email to fiftyfootnerds@gmail.com, tweet us @FiftyFootNerds and visit http://www.facebook.com/AttackOfThe50ftNerds
Note: This and every episode is earmarked by iTunes as "explicit" and is intended for mature audiences. The rest of Panels on Pages is reasonably safe for all-ages.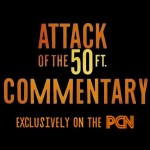 (Right click to save)
Visit the Attack of the 50ft Nerds thread on the PoP!ulation Forums!