In this special, on-location, interview episode, Paul heads down to Sci-Fi South West at the Trowbridge Civic Centre to interview the star of "Space Precinct", Richard James, and son of legendary TV show creator, Jamie Anderson. The discuss the legacy of Gerry Anderson, his impact on their lives and careers, and as a special Attack of the 50ft Nerds EXCLUSIVE, we have a trailer for the upcoming "Terrahawks" audio series from Big Finish Productions that you won't hear ANYWHERE ELSE!
After all that fun and excitement, Paul then tracks down Claire Eden, producer of the upcoming project "Strangeness In Space" and just why you should be backing it on Kickstarter!
*Please note there is variable audio quality in this episode due to recording constraints.
The 50ft Nerds: Standby for Action!
Want to contribute? Send us an email to fiftyfootnerds@gmail.com, tweet us @FiftyFootNerds and visit http://www.facebook.com/AttackOfThe50ftNerds
Note: This and every episode is earmarked by iTunes as "explicit" and is intended for mature audiences. The rest of Panels on Pages is reasonably safe for all-ages.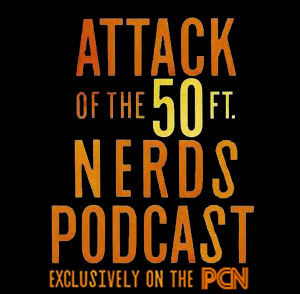 (Right click to save)
Visit the Attack of the 50ft Nerds thread on the PoP!ulation Forums!