Mike, Andy, Paul and more are trapped in a perilous situations as they attempt to escape the Bucket of Doom!
In the first of a series of gaming sessions recorded during Mike's birthday celebrations, join the gang as they use items such as Butt Plugs, Portals and Gary Glitter's PC to McGyver their way out of sticky situations.
The 50ft Nerds: They'll MyGyver the shit out of this
Want to contribute? Send us an email to fiftyfootnerds@gmail.com, tweet us @FiftyFootNerds and visit http://www.fiftyfootnerds.co.uk and http://www.patreon.com/fiftyfootnerds
Note: This and every episode is earmarked by iTunes as "explicit" and is intended for mature audiences. The rest of Panels on Pages is reasonably safe for all-ages.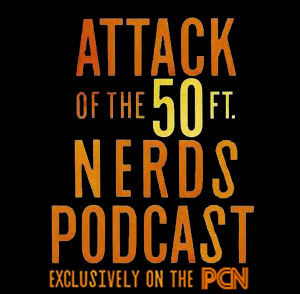 (Right click to save)
Visit the Attack of the 50ft Nerds thread on the PoP!ulation Forums!