The Nerds are finally back with a proper show! This week they discuss attractive women doing voiceovers for George Lucas, "You Are Ronald Reagan!", monkey self-portraits, sensitive nipples, the most important news Paul has ever brought and possibly one of the greatest Any Other Business stories of all time!
The 50ft Nerds: Everybody loves a midget emperor on the Panels On Pages podcast network.
Want to contribute? Send us an email to fiftyfootnerds@gmail.com, tweet us @FiftyFootNerds and visit http://www.facebook.com/AttackOfThe50ftNerds
Note: This and every episode is earmarked by iTunes as "explicit" and is intended for mature audiences. The rest of Panels on Pages is reasonably safe for all-ages.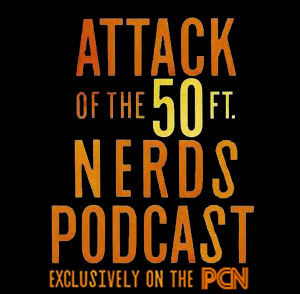 (Right click to save)
Visit the Attack of the 50ft Nerds thread on the PoP!ulation Forums!