Mike and Paul are here with the first Attack of the year! Where's Andy? Something to do with chocolate apparently, but fear not! As he did the edit, he occasionally makes an appearance. In this long-awaited episode the nerds talk Paul's new look, Ringo Starr, commentaries, the flying spaghetti monster and lots of references to man-secretions.
The 50ft Nerds: You'll find them driving down the M56.
Want to contribute? Send us an email to fiftyfootnerds@gmail.com, tweet us @FiftyFootNerds and visit http://www.facebook.com/AttackOfThe50ftNerds
Note: This and every episode is earmarked by iTunes as "explicit" and is intended for mature audiences. The rest of Panels on Pages is reasonably safe for all-ages.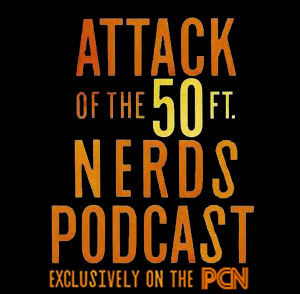 (Right click to save)
Visit the Attack of the 50ft Nerds thread on the PoP!ulation Forums!