Mike and Paul return to the world of Doctor Who conventions with a brand new live show recorded at Who At The Hilbre 2014!
The folks in attendance thrilled as the boys discuss their nocturnal activities the previous night, marveled at Mike's mental breakdown discussing Thunderbird 4's radical redesign, and then invaded the stage for a show sign off like no other!
Special thanks to Erica and Alan Lear for arranging the day and inviting to boys to play.
The 50ft Nerds: They're like an underwater Transit van.
Want to contribute? Send us an email to fiftyfootnerds@gmail.com, tweet us @FiftyFootNerds and visit http://www.facebook.com/AttackOfThe50ftNerds
Note: This and every episode is earmarked by iTunes as "explicit" and is intended for mature audiences. The rest of Panels on Pages is reasonably safe for all-ages.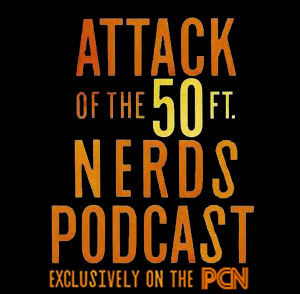 (Right click to save)
Visit the Attack of the 50ft Nerds thread on the PoP!ulation Forums!