Andy takes a leaf out of fellow Nerds Mike and Paul's book by inviting a guest on the show for a bit of a chat! What with it being Andy though, the guest is musical… Bunny Bennett AKA Rabbit, one of the members of the band Steam Powered Giraffe! Listen as they talk SPG's new album Mk III, Pink Floyd, a Transformers crossover and other randomness! PLUS a new song titled "I'll Rust With You"!
The 50ft Nerds: Their horse is a Unicron.
Want to contribute? Send us an email to fiftyfootnerds@gmail.com, tweet us @FiftyFootNerds and visit http://www.facebook.com/AttackOfThe50ftNerds
Note: This and every episode is earmarked by iTunes as "explicit" and is intended for mature audiences. The rest of Panels on Pages is reasonably safe for all-ages.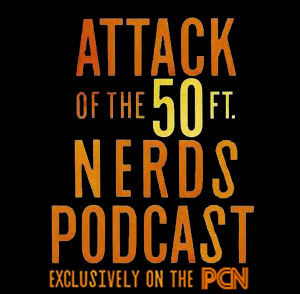 (Right click to save)
Visit the Attack of the 50ft Nerds thread on the PoP!ulation Forums!