In this special episode, Mike and Paul are joined by stand-up comedian, professional Doctor Who fan and bloody nice chap Toby Hadoke to talk about his one-man quest to chart the 50 years of Doctor Who history, his career, and how to voice a Lego version of David Tennant.
The 50ft Nerds: They wont get captured by the semantics police.
If you've enjoyed this episode, please consider making a donation to Toby's chosen charity at www.psoriasis-association.org.uk
Want to contribute? Send us an email to fiftyfootnerds@gmail.com, tweet us @FiftyFootNerds and visit http://www.facebook.com/AttackOfThe50ftNerds
Note: This and every episode is earmarked by iTunes as "explicit" and is intended for mature audiences. The rest of Panels on Pages is reasonably safe for all-ages.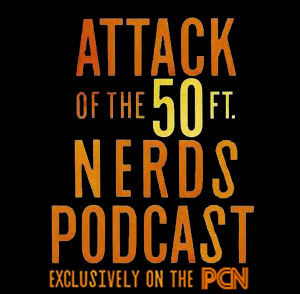 (Right click to save)
Visit the Attack of the 50ft Nerds thread on the PoP!ulation Forums!