After Skype-griping and tangental talk of television, the boys are back to discuss tons of New Japan results, news, and upcoming shows. Plus, some late-breaking news, a question received via email answered, and talk of how Evolve went wrong at the last set of shows. Say it ain't so, Gabe!
PCW: Pardon the echoy audio this episode. Skype apparently hates Melchor for not cozying up to a Boobie Bot.
Want to send us an email? You can do that at newpcw@gmail.com. Follow us on Twitter: @PCfnW
Closing Theme: "DDT" – MegaRan (feat. Doug Funnie)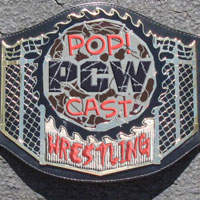 (Right Click to Save)
Note: This and every PoP!-Cast is earmarked by iTunes as "explicit" and is intended for mature audiences. The rest of Panels on Pages is reasonably safe for all-ages.

Join the main PanelsOnPages.com PoP!-Cast live every Tuesday at 10 PM EST! Click here for details! And subscribe to PoP!-Cast on iTunes! Click the link and leave us an awesome review, won't you?