In this episode we review Marvel Comics Avengers Books books of November 2015.
Sponsor DCBService.com
0:00:00 What did you do for Christmas?
0:18:18 Star Wars Force Awakens
0:46:51 End Star Wars Talk
0:47:27 Email
1:00:55 Midtro
1:03:55 All New All Different Avengers #1
1:14:44 New Avengers #3
1:21:16 Uncanny Avengers Annual #1
1:28:11 Vision #1
1:38:11 Mighty Thor #1
1:49:51 Ultimates #1
2:00:15 Uncanny Avengers #2
New # 1 Books
Star-Lord, Moon Girl and Devil Dinosaur, Ms. Marvel, Howard the Duck, All New Hawkeye, Nova, Illuminati, Drax, Hercules, Venom Space Knight, Black Knight
Star Wars theory by D-Cast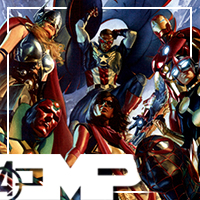 EMP #102
(Right click to save)
EMP theme song
By Tribe One
Email
EarthsMightiestPodcast.com
Facebook Group
Viet's Website
Alex's Website
Note: The PoP!-Cast Network is earmarked by iTunes as "explicit" and is intended for mature audiences.