Check out EMP Episode 113 as Corwin, Viet and Bobby break off the Avengers books of September 2016. Inquiring minds want to know how many Cyborgs it takes unsettle a Wasp nest, how many slices of The Maker will it take to unhinge A.I.M.'s new Supreme Commander and honestly who would win in a fist fight: Steve Rogers or Deadpool? All that and an alternate universe where Corwin is the (former) owner of the Millennium Falcon?
0:00:00 Sponsor DCBService.com
0:00:40 Feedback
0:15:05 Midtro
0:17:13 Civil War II (2016) #5
0:29:02 A-Force (2015) #9
0:45:04 All New All Different Avengers (2015) #14
0:59:59 New Avengers (2015) #16
1:11:25 Ultimates (2015) #11
1:22:00 Uncanny Avengers (2015.2) #14
Quick Hits:
1:44:12 Mockingbird (2016) #7
1:46:05 Captain America Sam Wiilson (2015) #13
1:47:55 Invincible Iron Man (2016) #13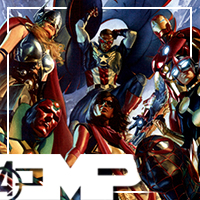 EMP #113
(Right click to save)
EMP theme song
By Tribe One
Email
EarthsMightiestPodcast.com
Facebook Group
Viet's Website
Alex's Website
Note: The PoP!-Cast Network is earmarked by iTunes as "explicit" and is intended for mature audiences.