In this episode we rewind time and cover Marvel Comics first MAX title Alias AKA Jessica Jones! Then we flash forward to the post Secret Wars Marvel Universe to cover the Avengers Rage of Ultron OGN!
0:00:00 Lots of talk
0:16:40 Email
0:29:45 Sponsor DCBService.com
0:35:16 Midtro
0:38:14 Jessica Jones vol 1 Alias
aka Alias #1-9
1:16:31 Avengers Rage of Ultron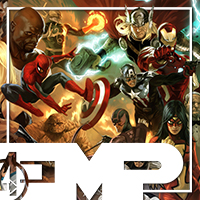 EMP #97
(Right click to save)
EMP theme song
By Tribe One
Email
EarthsMightiestPodcast.com
Forums
Viet's Website
Alex's Website
Note: The PoP!-Cast Network is earmarked by iTunes as "explicit" and is intended for mature audiences.