In this eXplicit, uncut and unedited episode of EMX we review the X-Men books of September 2014. Featuring guest host Meg White!
Sponsor DCBService.com
All-New X-Factor #13-14
All-New X-Men #32
Amazing X-Men #11
Death of Wolverine #1-2
Uncanny X-Men #25-26
Wolverine and the X-Men #9
X-Force #9
X-Men #19
Other books:
Cyclops #5
Magneto #9-10
Nightcrawler #6
Storm #3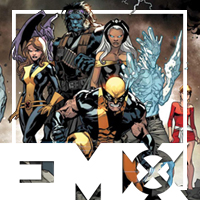 EMX #23
(Right click to save)
Email
EarthsMightiestPodcast.com
Forums
Viet's Website
Alex's Website
Note: The PoP!-Cast Network is earmarked by iTunes as "explicit" and is intended for mature audiences.