In this episode we review the Deadpool books books of November 2014.
Sponsor DCBService.com
0:06:38 News
0:17:05 Hellhouse Fax
0:28:38 Hawkeye Vs Deadpool #2
0:37:22 Deadpool's Art of War #2
0:43:33 Deadpool #37
0:52:40 Past-O-Vision: Deadpool #33
1:05:55 Dead-Bate Joe Kelly run a classic?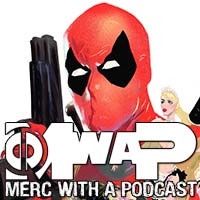 MwaP #-8
(Right click to save)
Music by Jenki "Girls of Los Angeles"
Email
EarthsMightiestPodcast.com
Forums
Note: The PoP!-Cast Network is earmarked by iTunes as "explicit" and is intended for mature audiences.