A belated Nerdmas to you all! Blame Paul, he didn't record his lines until Feb 2016.
In yet another festive bonanza (recorded months ago), the Nerds return with topics such as Christmas Hitler, equating Lord of the Rings characters to the Bible and what would happen if Sir Anthony Hopkins came down your chimney, before rounding things off with a game-show segment that we in no way ripped-off from another podcast… *ahem*
All this is neatly rounded off with our usual wraparound sketches, with special guest voices galore!
The 50ft Nerds: They predicted the death of David Bowie.
Want to contribute? Send us an email to fiftyfootnerds@gmail.com, tweet us @FiftyFootNerds and visit http://www.facebook.com/AttackOfThe50ftNerds
Note: This and every episode is earmarked by iTunes as "explicit" and is intended for mature audiences. The rest of Panels on Pages is reasonably safe for all-ages.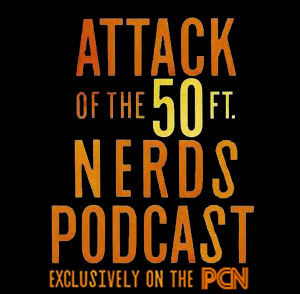 (Right click to save)
Visit the Attack of the 50ft Nerds thread on the PoP!ulation Forums!