PCW is back with a brand new episode and today the boys are talking about Samoa Joe, Raw, Sting, ROH's 13th Anniversary show, some New Japan, and two huge controversies in women's wrestling. If you expect us to stay on the same topic for long, you haven't listened to the show before.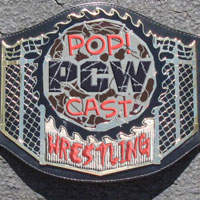 (Right Click to Save)
Note: This and every PoP!-Cast is earmarked by iTunes as "explicit" and is intended for mature audiences. The rest of Panels on Pages is reasonably safe for all-ages.

Join the main PanelsOnPages.com PoP!-Cast live every Tuesday at 10 PM EST! Click here for details! And subscribe to PoP!-Cast on iTunes! Click the link and leave us an awesome review, won't you?