Severe weather. Upload issues. President Obama. All of them tried to stop this episode. And failed.
This week we are talking all about WrestleMania weekend and it is a Super No Vacancy show. There was a lot a big shows and we cover WrestleMania 31, the Raw the next night, Evolve 39, Evolve 40, WWN Mercury Rising, and ROH Supercard of Honor. When we finish talking about the past, we look to the future with a preview of the upcoming New Japan PPV, Invasion Attack. Along with all that, we have our usual tangents, giving you everything you expect out of us.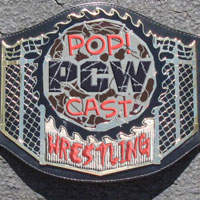 (Right Click to Save)
Note: This and every PoP!-Cast is earmarked by iTunes as "explicit" and is intended for mature audiences. The rest of Panels on Pages is reasonably safe for all-ages.

Join the main PanelsOnPages.com PoP!-Cast live every Tuesday at 10 PM EST! Click here for details! And subscribe to PoP!-Cast on iTunes! Click the link and leave us an awesome review, won't you?