This week on PCW we are breaking down Battleground, the beginning of the G1 Climax tournament, and the current OVW product. Kelly and Michael give their G1 predictions, so be sure to listen so you can tell them how wrong they are later on down the road. You get all this plus talk about fighting games, WWE Films, Jushin Liger working in NXT, and more.
Want to send us an email? You can do that at newpcw@gmail.com. Follow us on Twitter: @PCfnW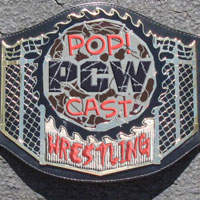 (Right Click to Save)
Note: This and every PoP!-Cast is earmarked by iTunes as "explicit" and is intended for mature audiences. The rest of Panels on Pages is reasonably safe for all-ages.

Join the main PanelsOnPages.com PoP!-Cast live every Tuesday at 10 PM EST! Click here for details! And subscribe to PoP!-Cast on iTunes! Click the link and leave us an awesome review, won't you?