Kick off your October with a super no vacancy episode of Pumpkin Cast Wrangling. We're talking about all your favorite pumpkin spices. Oh, and wrestling too. This week we cover both New Japan Destruction shows, ROH All Star Extravaganza, and Night of Champions. Then we preview the upcoming NXT Takeover and the WWE Madison Square Garden show that will be on the Network. We also talk the state of women's wrestling, Beyond Wrestling's GRRR, and what we'd like to see out of indie wrestling streaming services. You get all that and talk about Perry Mason and Ego the Living Planet.
Want to send us an email? You can do that at newpcw@gmail.com. Follow us on Twitter: @PCfnW
Closing Music: RPG Vice entrance music by Rocky Romero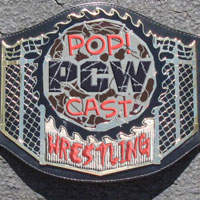 (Right Click to Save)
Note: This and every PoP!-Cast is earmarked by iTunes as "explicit" and is intended for mature audiences. The rest of Panels on Pages is reasonably safe for all-ages.

Join the main PanelsOnPages.com PoP!-Cast live every Tuesday at 10 PM EST! Click here for details! And subscribe to PoP!-Cast on iTunes! Click the link and leave us an awesome review, won't you?