We are joined on this episode by Todd Black, writer of Guardians and the upcoming project, Home. We discuss the Kickstarter for Home (available here: https://www.kickstarter.com/projects/blackmagicwolf/home-1-the-girl-with-the-blue-hair) as well as NXT TakeOver Respect, The new Brand Split and competition within WWE, TNA Impact (?!!?), PWG BOLA 2015, an upcoming look at shows Michael ordered recently, and a preview of this coming weekend's New Japan King of Pro Wrestling show. It's a show packed with puns and prolific gimmickry!
Want to send us an email? You can do that at newpcw@gmail.com. Follow us on Twitter: @PCfnW
Closing Music: "Scorched Ops" by Scott Reinwand (Jay Lethal's theme)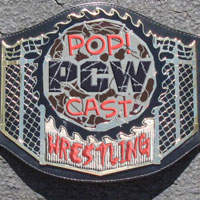 (Right Click to Save)
Note: This and every PoP!-Cast is earmarked by iTunes as "explicit" and is intended for mature audiences. The rest of Panels on Pages is reasonably safe for all-ages.

Join the main PanelsOnPages.com PoP!-Cast live every Tuesday at 10 PM EST! Click here for details! And subscribe to PoP!-Cast on iTunes! Click the link and leave us an awesome review, won't you?