The craziness that is 2016 continues. The Internet Wrestling Geek Prodigy, Kelly Harras, and the King of Useless Information, Michael Melchor discuss the Royal Rumble, AJ Styles, Shinsuke Nakamura, The WrestleMania Weekend NXT show (SPOILERS!), Evolve's numerous tournaments from Royal Rumble weekend, Fantastica Mania 2016, and bloody chests in Noah.
PCW: That dude's chest looks like hamburger.
Want to send us an email? You can do that at newpcw@gmail.com. Follow us on Twitter: @PCfnW
Closing Theme: "Instutionalized" – Suicidal Tendencies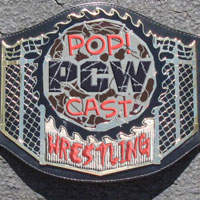 (Right Click to Save)
Note: This and every PoP!-Cast is earmarked by iTunes as "explicit" and is intended for mature audiences. The rest of Panels on Pages is reasonably safe for all-ages.

Join the main PanelsOnPages.com PoP!-Cast live every Tuesday at 10 PM EST! Click here for details! And subscribe to PoP!-Cast on iTunes! Click the link and leave us an awesome review, won't you?