This week, we have a very special episode (and not in that Afterschool Special kind of way, either). Skype's a jerk, so The King of Useless Information, Michael Melchor is on his own this week as PCW welcomes Ohio Valley Wrestling Manager of Champions, Josh Ashcraft! Hear about how Josh fell in love with – then got in to – pro wrestling. The stare of wrestling, its fans, and music – all discussed during the show!
Want to send us an email? You can do that at newpcw@gmail.com. Follow us on Twitter: @PCfnW
Closing Theme: "Uncool As Me" – Bloodhound Gang ft. Joey Fatone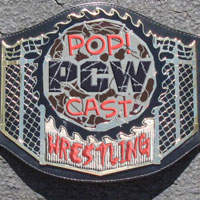 (Right Click to Save)
Note: This and every PoP!-Cast is earmarked by iTunes as "explicit" and is intended for mature audiences. The rest of Panels on Pages is reasonably safe for all-ages.

Join the main PanelsOnPages.com PoP!-Cast live every Tuesday at 10 PM EST! Click here for details! And subscribe to PoP!-Cast on iTunes! Click the link and leave us an awesome review, won't you?