"The Internet Wrestling Geek prodigy" Kelly Harras and "The King of Useless information" Michael Melchor are hip-deep in tournament season. Thoughts on the opening round(s) of the G1 Climax, WWE's Cruiserweight Classic, and the Super J-Cup. Plus, our thoughts on the WWE Draft and digital trading cards. Because apparently that's a thing.
Want to send us an email? You can do that at newpcw@gmail.com. Follow us on Twitter: @PCfnW
Closing Theme: Viro the Virus – "Be Naked" by Neo Atomic Motor (Akira Tozawa's Theme)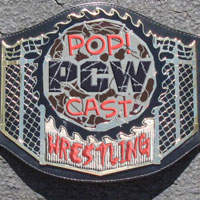 (Right Click to Save)
Note: This and every PoP!-Cast is earmarked by iTunes as "explicit" and is intended for mature audiences. The rest of Panels on Pages is reasonably safe for all-ages.

Join the main PanelsOnPages.com PoP!-Cast live every Tuesday at 10 PM EST! Click here for details! And subscribe to PoP!-Cast on iTunes! Click the link and leave us an awesome review, won't you?