The boys are back with a brand new positive episode!! This time around Scott airs out his hatred of stupid dialogue in the new stupid (guess who wrote this) X-Men movie and then speculates about a Marvel vs. Capcom movie. Meanwhile Corwin recalls how old he was when Barbie Girl came out and then says how many Homestuck cosplayers he saw at Mega Con. Then the boys cover the Deadpool books of May 2016. In Past-O-Vision they travel back to 2001 and visit the start of Frank Tieri's run on Deadpool. Finally in Merc Files, we get the details on Highwayman. And as always Robot Chicken Hulk wraps the show up with a PSA.
Sponsor DCBService.com
0:14:19 X-Men Apocalypse SPOILERS
0:31:29 Deadpool (2015) #11
0:36:39 Deadpool (2015) #12
0:46:07 Deadpool Last Days of Magic #1
0:55:04 Unbelievable Gwenpool (2016) #2
1:01:40 Uncanny Avengers (2015.2) #9
1:08:32 Harley Quinn #28
1:14:35 Deadpool and the Mercs for Money (2016) #4
1:21:02 Spider-Man Deadpool (2016) #5
Past-O-Vision
1:30:22 Deadpool (1997) #57
1:41:03 Deadpool (1997) #58
Merc Files
1:48:26 Highway Man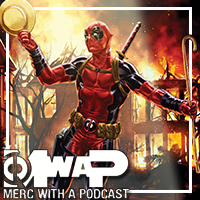 MwaP #63
(Right click to save)
Music by Jenki "Girls of Los Angeles"
Email
EarthsMightiestPodcast.com
Facebook Group
Note: The PoP!-Cast Network is earmarked by iTunes as "explicit" and is intended for mature audiences.