Skype, dogs, children, and even Talkshoe all conspired to prevent the return of "The Internet Wrestling Geek prodigy" Kelly Harras and "The King of Useless information" Michael Melchor, but the boys won't be denied! They return after a short hiatus to talk about this summer's three (!) big tournaments – New Japan's G1 Climax, WWE's Cruiserweight Classic and PWG's BOLA 2016. The guys also discuss Kenny Omega vs. Xavier Woods at CEO 2016 (because we called it!), Roman Reigns's suspension, and hot takes on Ring of Honor.
Want to send us an email? You can do that at newpcw@gmail.com. Follow us on Twitter: @PCfnW
Closing Theme: Viro the Virus – "Chris Is Awesome" (Chris Hero Theme)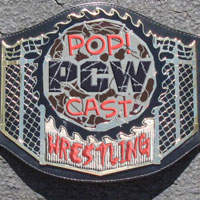 (Right Click to Save)
Note: This and every PoP!-Cast is earmarked by iTunes as "explicit" and is intended for mature audiences. The rest of Panels on Pages is reasonably safe for all-ages.

Join the main PanelsOnPages.com PoP!-Cast live every Tuesday at 10 PM EST! Click here for details! And subscribe to PoP!-Cast on iTunes! Click the link and leave us an awesome review, won't you?