"The boys are back with a brand new episode. In this episode Scott talks about the lewd acts that bakers do to your doughnuts, and how Emila got his whole family into Erased this Chrismukkah season. Meanwhile, Corwin gets swindled by Santa with the bill this Christmas, then talks about how he doesn't understand how two characters can be called Ellie. The books for November 2016 are finally reviewed after the non-stop positive Deadpool news. In Merc Files we learn the history and facts of Foolkiller. Finally in Past-O-Vision they wrap up the Taskmaster mini from 2002. And as always Robot Chicken Hulk wraps the show up with a PSA.
But wait we have more to announce!! Scott must be crazy because he bought more trades for the contest. You can now also win Night of the Living Deadpool TPB, Deadpool & Cable Ulitmate Collection Vol. 1, The Unbelivable Gwenpool Vol. 1 TPB, and Uncanny X-Force vol. 1 TPB too!! Send us a picture of yourself wearing or holding your Deadpool swag as well as a poster saying ""Merc with a Podcast"", and post it on our Facebook page or tweet it at us (@mercwapodcast) with the #mercwapodcastgiveaway . Or e-mail us a drawing of Donkey Kong as Wolverine. You have till Jan. 31st, 2017 to send your entries in."
Sponsor DCBService.com
0:03:24 News
0:18:49 Spider-Man Deadpool (2016) #11
0:23:32 Deadpool: Back in Black (2016) #3
0:27:29 Deadpool: Back in Black (2016) #4
0:30:17 Deadpool (2015) #22
0:39:20 Uncanny Avengers (2015.2) #16
0:45:36 Unbelievable Gwenpool (2016) #8
0:52:42 Deadpool and the Mercs for Money (2016.2) #5
0:59:15 Foolkiller (2016) #1
1:09:46 Deadpool Too Soon? (2016) #3
1:15:27 Deadpool Too Soon? (2016) #4
1:19:23 Merc File: Foolkiller
Past-O-Vision
1:22:44 Taskmaster (2002) #3
1:27:37 Taskmaster (2002) #4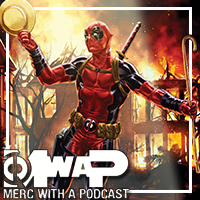 MwaP #69
(Right click to save)
Music by Jenki "Girls of Los Angeles"
Email
EarthsMightiestPodcast.com
Facebook Group
Note: The PoP!-Cast Network is earmarked by iTunes as "explicit" and is intended for mature audiences.