Check out EMP Episode 114 as Corwin, Viet and Bobby discuss the Avengers books of October 2016. They answer questions relating to changing the podcast format as well as rejoice in the return of Dum Dum Dugan! Then disaster strikes our podcast trio! What happens? Find out in Earths Mightiest Podcast Episode 114!
0:00:00 Sponsor DCBService.com
0:03:03 Feedback
0:24:35 Midtro
0:27:44 Civil War II (2016) #6
0:40:28 A-Force (2015) #10
0:55:19 All New All Different Avengers (2015) #15
1:04:21 New Avengers (2015) #17
1:18:20 Ultimates (2015) #12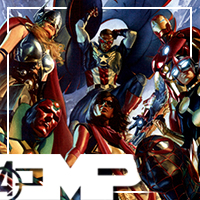 EMP #114
(Right click to save)
EMP theme song
By Tribe One
Email
EarthsMightiestPodcast.com
Facebook Group
Viet's Website
Alex's Website
Note: The PoP!-Cast Network is earmarked by iTunes as "explicit" and is intended for mature audiences.