This week the gang is fully-formed again for the first time in a month, which is fitting seeing as how Super-Fly Comics & Games celebrated its 7th anniversary. Tony and Jared talk about the stellar week, from the Bob's Burgers variant released this week to the 7th birthday party that featured local rock band Duderus, Victor Dandridge and Dirk Manning. Then the gang cracks into the September issue of Previews to talk about books and stuff coming out in November. Face it kids, this one's got it all!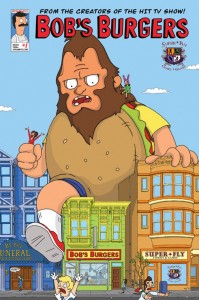 The Super-Fly Podcast: This is not the America my parents promised me
Closing Music: Louis XIV – Finding out that true love is blind
Note: This and every Super-Fly Podcast is earmarked by iTunes as "explicit" and is intended for mature audiences.
Got a question you want answered by Super-Fly? Send us an email at SuperFlyComics@gmail.com. Talking about us on Twitter? Use the official show hashtag #SuperFlyPodcast. Follow the store on twitter @superflycomics and visit us at superflycomics.com. Listeners of the show get 20% off their purchases at the store, in person or via mail order.
Subscribe to the Super-Fly Podcast on iTunes and Stitcher! Click the link and leave us an awesome review, won't you?